SERVICE/MAINTENANCE/TROUBLESHOOTING/TEAM APPROACH
We're Experienced Contractors
Personnel have been involved in various types of irrigation and central control installation;
Examples are as indicated –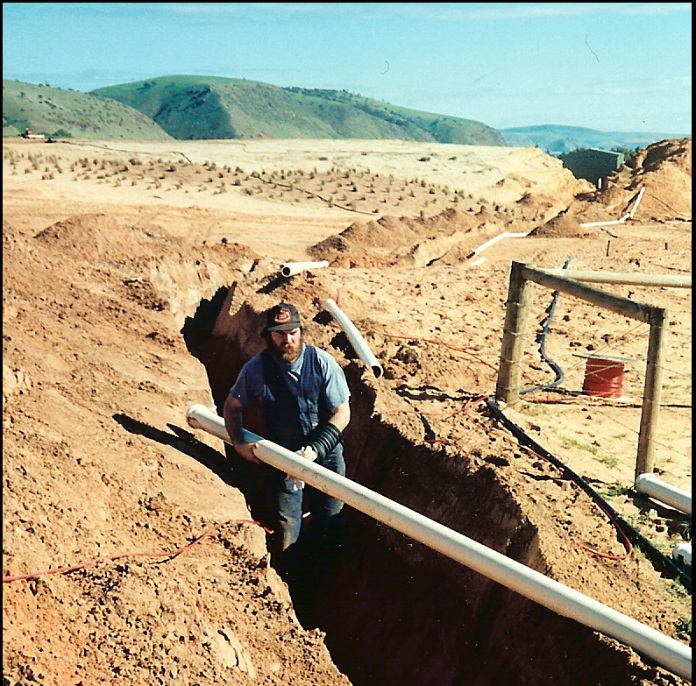 Hard wired satellite control
Radio link to field satellite
GSM control communication
Remote hand held control
Decoder control
Remote pump monitoring
Flow monitoring
Sensor control i.e,-

Water level application
Temperature
Moisture
Wind speed
Rainfall counter
Rain gauge, - interactive – stop, pause or interrupt programs
Light operation
Pump alarm

Auto smart dialer notification
Data industrial transmitting systems
Weather station construction
Flow meter calibration
Software programming
Audits to obtain station data to fine tune central data base, including GPS retrieval
Training
System management
Remote software access via our office for additional assistance
Principals in the company were involved in the first Maxi control system installed in Victoria 22 years ago at Kew Golf Club and one of the first Maxicom 'Dos' operated systems at Shire of Bulla for control of two golf courses, parks, reserves and sports grounds nearly 20 years ago.
Design & Consultancy
The preparation of irrigation designs, specifications, reports and pump set drawings has seen our team become valued members of professional consulting groups involved with working drawings and tender documentation for many major projects in Australia, New Zealand, and Asia.
Successful conclusions have resulted in ongoing consultancy work with Golf Course Architects, Turf Professionals, Superintendents, Landscape Architects, Town Planners and Engineers.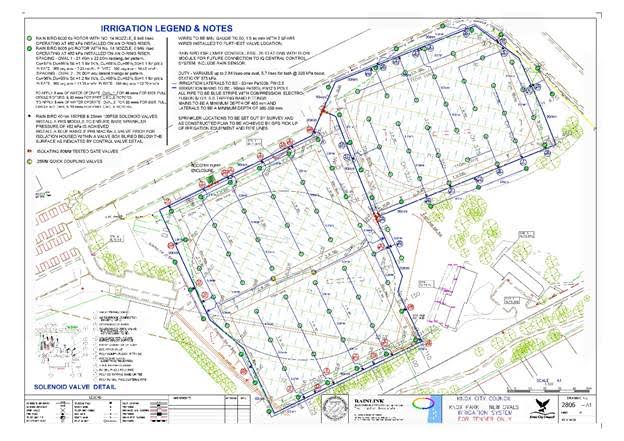 Examples of involvement in irrigation consulting, –
Crown Casino - Melbourne CBD
The Heritage Golf & Country Club – Wonga Park – Victoria
Mount Osmond Golf Club- Mount Osmond - South Australia
Redcliffe Golf Club – Clontarf, - Queensland
RACV Forest Resort – Creswick - Victoria
Residential Housing Estates
Parks and Schools
Municipal Councils – i.e, Monash, Knox & Launceston
As well as standard irrigation design our work can also include, -
IT communication platform designs for central control systems
Water Balance, transfer stations and filtration for re-cycled water systems
Hydraulic Computations & analysis to improve existing system performance
Irrigation Audits & recommendation reports
Irrigation Association Ltd Certified Irrigation Designer Status for Landscape/Turf Commercial and Landscape/Turf Golf as well as Certified Irrigation Auditors we ensure our status remains current! Yearly re-certification post exams is measured by meeting the IAL standard requirements to prove further irrigation training as well as keeping up to date with technical advancements with products and a whole range of other criteria.
Our design philosophy for each project is to choose the most suitable products available and by combining an artistic and scientific approach ensure the best possible outcome ensues.
Our number 1 factor for good design is to achieve suitable sprinkler spacing with the best possible uniformity to help conserve water, power and reduce hours of operation. The result of achieving this criteria assists the operator to grow healthy turf and landscape. Listening to the practical concerns of the client, their experience and desire to use certain products as well as considering budget limitations is also a key to a positive outcome.
Rainlink has the capability to plan and install, audit, survey, service and repair all types of irrigation systems including centralized irrigation control. Our technicians swiftly progress the repair and complete maintenance work without procrastination!
On some projects we do see the need to form a team approach not just with the manufacturer and contractor but also from some of our learned associates.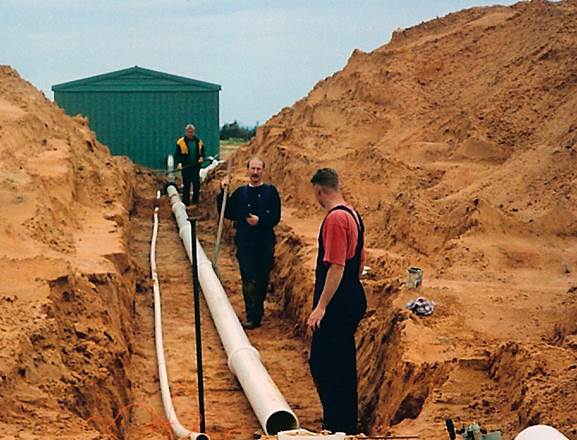 The associates we would involve to provide further back up, support and a "hands on approach" to the requirements of some contract work may occasionally include:-
Greg Powick of GJP Solutions. Greg has 24 years irrigation experience and is well known and respected in the industry. A former manager of Rain One Australia Pty Ltd and for many years a loyal and enthusiastic employee of Turf & Irrigation Services Pty Ltd. Turf & Irrigation was the sole national importer and distributor of Rain Bird equipment for decades. A brief history follows;-

Turf & Irrigation was a privately owned company sold a few years ago to Hugall & Hoile – a large irrigation business in Perth. To avoid a conflict with T & I's retail and contracting business – Rain One was formed.
Rain One Australia – part of the Hugall & Hoile group of companies became importers and distributors of Rain Bird equipment. Rain Bird U.S.A. set up two suppliers to provide dealers with an alternative source.
Today, Rain Bird Australia is a wholly owned subsidiary of Rain Bird International and is the only importer of Rain Bird equipment to dealers in Australia and New Zealand.

Greg has been personally involved with importing, specifying, selling and support of central systems for 17 years since the inception of central control distribution in Australia. His knowledge, interest and assistance in central communication have been of great help to us over the years and will continue to be beneficial in this project, – especially as another means of support to our Clients.
John Van Der Pol of Yallambie Sprinkler Maintenance. John has 17+ years of experience in servicing irrigation system for municipalities and Clubs. He has an admirable approach in always ensuring the work he performs is professional, neat and tradesman like to the highest degree.
John has been involved in installation of components for Nillumbik Shire and Darebin Council central control systems. He believes in finding the best possible solution; – whether it is for electrical fault finding or for the careful fitting and mounting of central components.
Nick Moschis of Aqua Plan Irrigation. Nick is probably best known to the industry over the years as the Central Control Manager of Rain Bird International and a Maxicom 2 specialist. Nick has in recent years left Rain Bird and set up his own company to look after central control systems in Southern and Eastern Australia. He is more than happy to assist us if required and is undoubtedly one of the most knowledgeable people in the field of central operation.
Brad Evans of Ultimate Industries has been our pump consultant for nearly 20 years for major irrigation projects including golf courses i.e, - Links Lady Bay, Mt. Osmond, Ivanhoe Golf, Brighton, Kew, Henley, and Forest Resort pump systems. Brad has an incredible knowledge of various pump systems having worked in the development of control systems for Southern Cross/Tyco, & Techsys.
Brendan McNamara & Andrew Williams of Rapid Map Global have been our GPS advisors, suppliers, and surveyors for approximately 15 years. Rainlink and Rapid Map have a great working relationship and they are leaders in their field. Andrew has spent many hours ensuring that the plans we receive from various Councils and Clubs are set out in the correct datum to ensure our results are as accurate as possible. This professionalism can be observed by viewing our aerial plans with X-Y co-ordinates for irrigation as constructed plans.
Information on Rainlink employees is included in the accompanying company profile. The technicians who work in the field are very experienced with both service and installation of all irrigation components, are qualified horticulturists, hardworking and extremely competent. This can be verified by checking with our clients.
Audits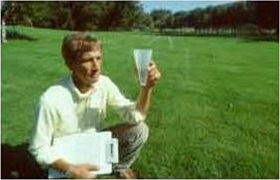 Together with Geoff Connellan (ex. Senior Lecturer – University of Melbourne) now of G & M Connellan Consultants we have completed detailed irrigation audits and recommendations for the City of Port Phillip, including proposed tree watering irrigation concepts for St. Kilda Road medians and nature strips.
Extensive auditing and catch can tests have been prepared for Monash City Council and Kew Golf Club and have been extremely beneficial in assisting with system modifications, central control scheduling and default run times.
A series of checks have been performed – prior and post nozzle and sprinkler model changeovers.
GSP (Global Service Plan)
Whether you operate a state-of-the-art Rain Bird Maxicom2, the dynamic map-based Site Control, the MDC Two-Wire Decoder System or the new IQ Series Controller, you will have peace of mind. You can rest assured that you have chosen some of the smartest, most user-friendly irrigation control systems in the world and that they are backed by Rain Bird Australia's Global Service Plan and our fully-trained Rain Bird Australia technicians.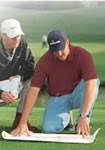 It's good to know that when you install Rain Bird, you also Install Confidence™, reliability and total reassurance. Rain Bird Australia Global Service Plan* features:
Toll Free Call Support. Our Technical Support team is just a free phone call away (9am - 5pm EST) to help with any technical issues that you might have.
Remote Diagnosis. Our technicians can – with your permission – access your Central Control System from their computer to resolve certain problems to put you back in operation quickly.
48-Hour** Response. To ensure minimal downtime, a Technical Support Specialist will respond within 48 hours for issues that cannot be dealt with on the phone or by remote diagnosis.
Extended Warranty. Covers your Central Control System's hardware, software, peripherals and interface.
48-Hour Hardware Replacement. If any components become inoperable, a loan replacement will be there within 48 hours.
Disc Backup Hardware. Allows you to protect valuable databases and hard drive files. Software Service Packs. Update to the latest central control service packs at no extra cost!
Software Upgrade Discounts. Reduce the cost of future software upgrades.
GSP Software Enhancements. Free periodic enhancements for GSP subscribers.
Annual Tune-Up. A Technical Support Specialist will analyse your system and perform any necessary maintenance once a year.
It all adds up to a Central Control System that provides maximum efficiency, The Intelligent Use of Water™ and no worries!
Rain Bird Global Service Plan Tech Spec
Rain Bird GSP Classic Plus Plan